According to the Article 7-1-2 of the Regulations Governing the Use of Uniform Invoices issued by the Ministry of Finance on July 16, 2018, the business entity (prescribed in Subparagraph 4, Article 6 of the Act) shall issue cloud invoices to purchasers".
How to issue and upload the e-invoice ?
The Cross-border E-commerce Suppliers could assign e-GUI number to issue and upload cloud e-invoices via Value-Added-Center or by building up own Turnkey service the transmission software of Government E-invoice Platform.
The Value-Added-Centers e-invoice services of SystemLead.
Document download of Cross-border E-Commerce Suppliers e-invoicing solution.
Systemlead is the first Value-Added-Center to successfully upload the e-invoice of Taiwan Cross-border E-Commerce Suppliers on 2019/01/02 and earned the approbation of the Government Ministry Taxation Bureau.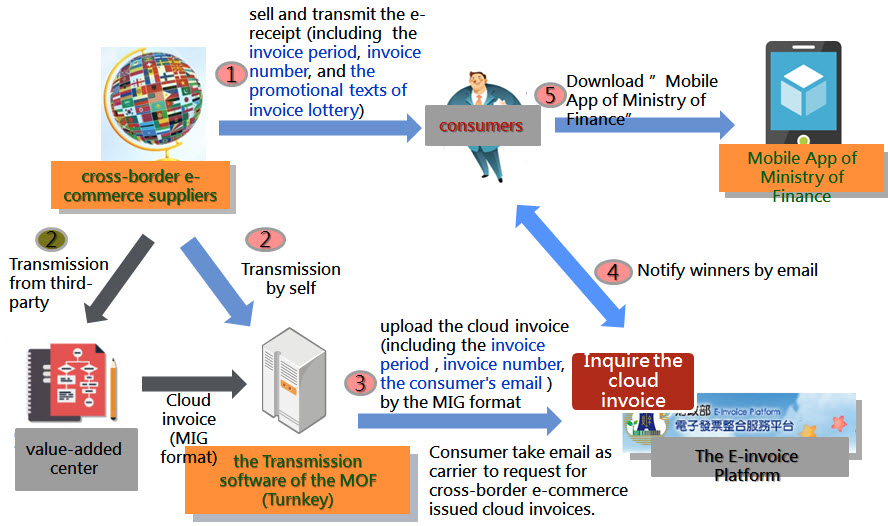 Our Features:
Adopt Microsoft AZURE cloud service to meet the high security requirements of the computer room. High availability reliability.
Support variety of foreign currency to issue e-invoices, exchange rate for declaration settlement is automatically.
Support notification of issued e-invoices and integration of MAIL vehicle services for Cross-border E-Commerce Suppliers.
Exclusive implemented consultants and customer service staff to serve in application and completion the e-invoice testing.